Boardshorts O'Neill Mini Palms
Goods is on stock
Free delivery from over 100.00 € order value
2836 places for Personal Pickup in the Czech Republic and Slovakia
We deliver probably on Monday 10. 8.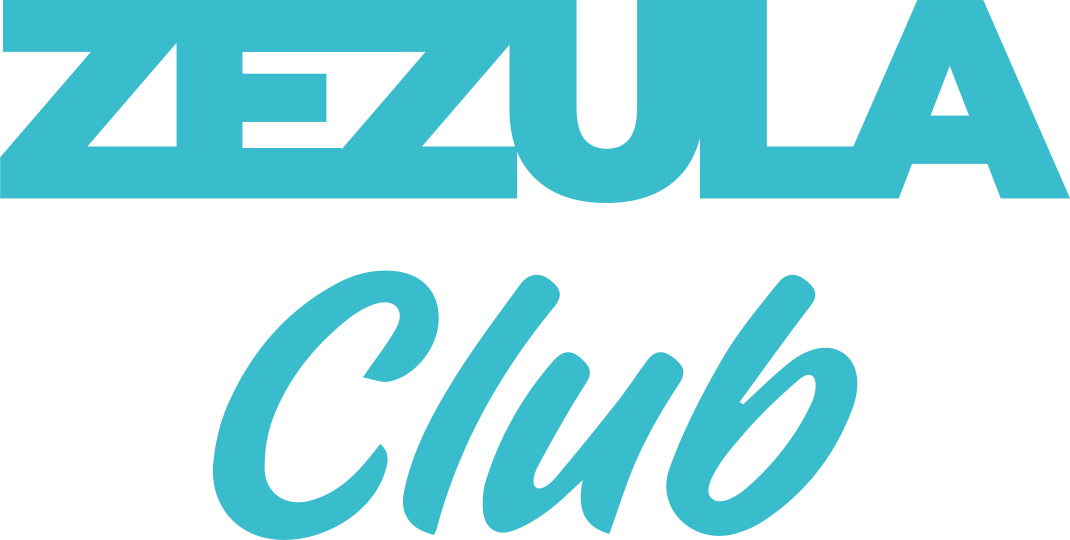 ZEZULA Club is a loyalty program for customers of SNOWBOARD ZEZULA. Members can buy cheaper and enjoy exclusive club benefits.
Become a member of ZEZULA Club and get many benefits!
ZEZULA Club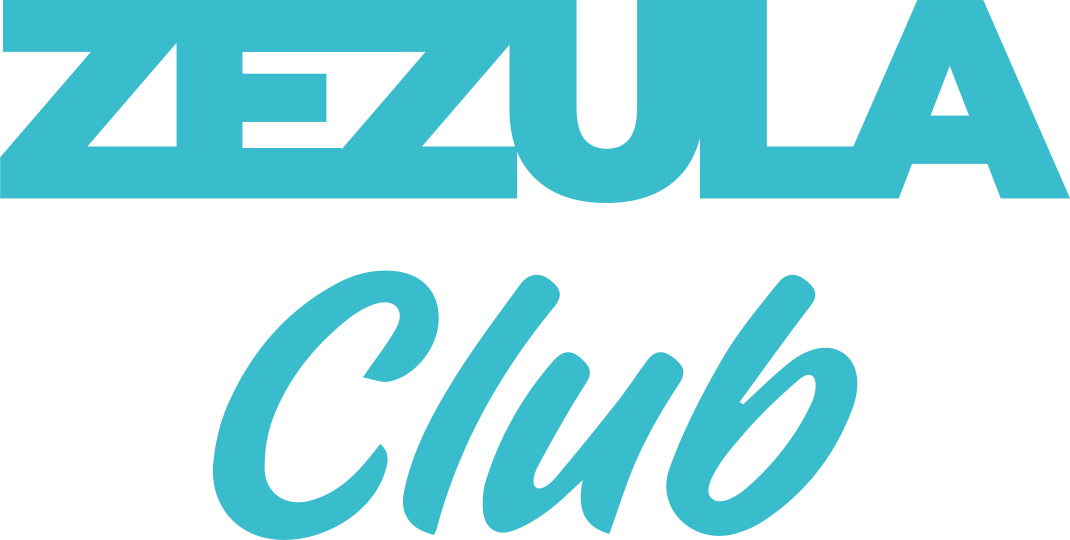 ZEZULA Club is a loyalty program for customers of SNOWBOARD ZEZULA. Every customer who signs up automatically becomes a member of ZEZULA Club and can buy cheaper and enjoy exclusive club benefits:
up to 20% off non-discount items at eshop and store
cheaper shipping
lower free shipping limits
Order priority
special discounts on already discounted items
discount on rental and service at SNOWBOARD ZEZULA
Description
O'Neill Mini Palms Boardshorts
Slip into the summer in Mini Palms boardshorts in bold colors and all-over print of mini palms, O'Neill Hyperdry and side pockets. In short, maximum style and functionality wherever you move!
Features
Fitt: Regular
Material: 100% polyester
Size Chart
| | | S | M | L | XL | XXL |
| --- | --- | --- | --- | --- | --- | --- |
| A | WIDTH PANTS (cm) | 37 | 40 | 43 | 47 | 50 |
| B | LENGHT (cm) | 39 | 41 | 42 | 44 | 45 |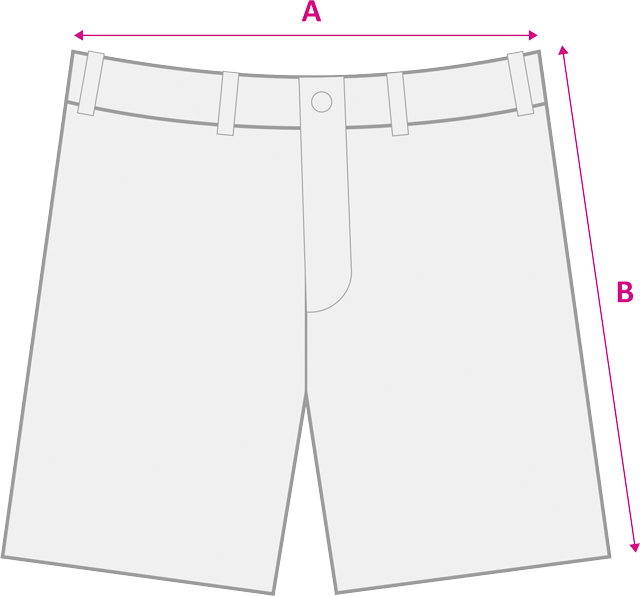 How to choose your equipment?
How to choose the right boardshorts for yourself?
Summer is here and therefore it's high time to put your favorite jeans off for a while and immerse yourself in the summer heat, and especially in the refreshing water. Pleasure with
well-chosen boardshorts
.
Why boardshorts?
Tight swimming trunks are not for everyone. Especially because they are usually so tight that they encircle everything. However, everyone can look and feel great in well-chosen boardshorts. This lightweight, stylish type of swimwear is popular with most men, whether for a variety of water sports such as surfing, wakeboarding or paddle boarding or just plain chillin' by the pool. The reality is that many men wear boardshorts even when there is no waterside anywhere near.
Boardshorts, even though they were made for water sports, are also popular to wear at non-water sports such as skateboarding and beach volleyball. This type of swimwear is loose, mostly with velcro fastening and drawstring front closure and much longer outseam than the regular swimming trunks. The advantage of boardshorts in general is that they are made of lightweight and quick-drying material.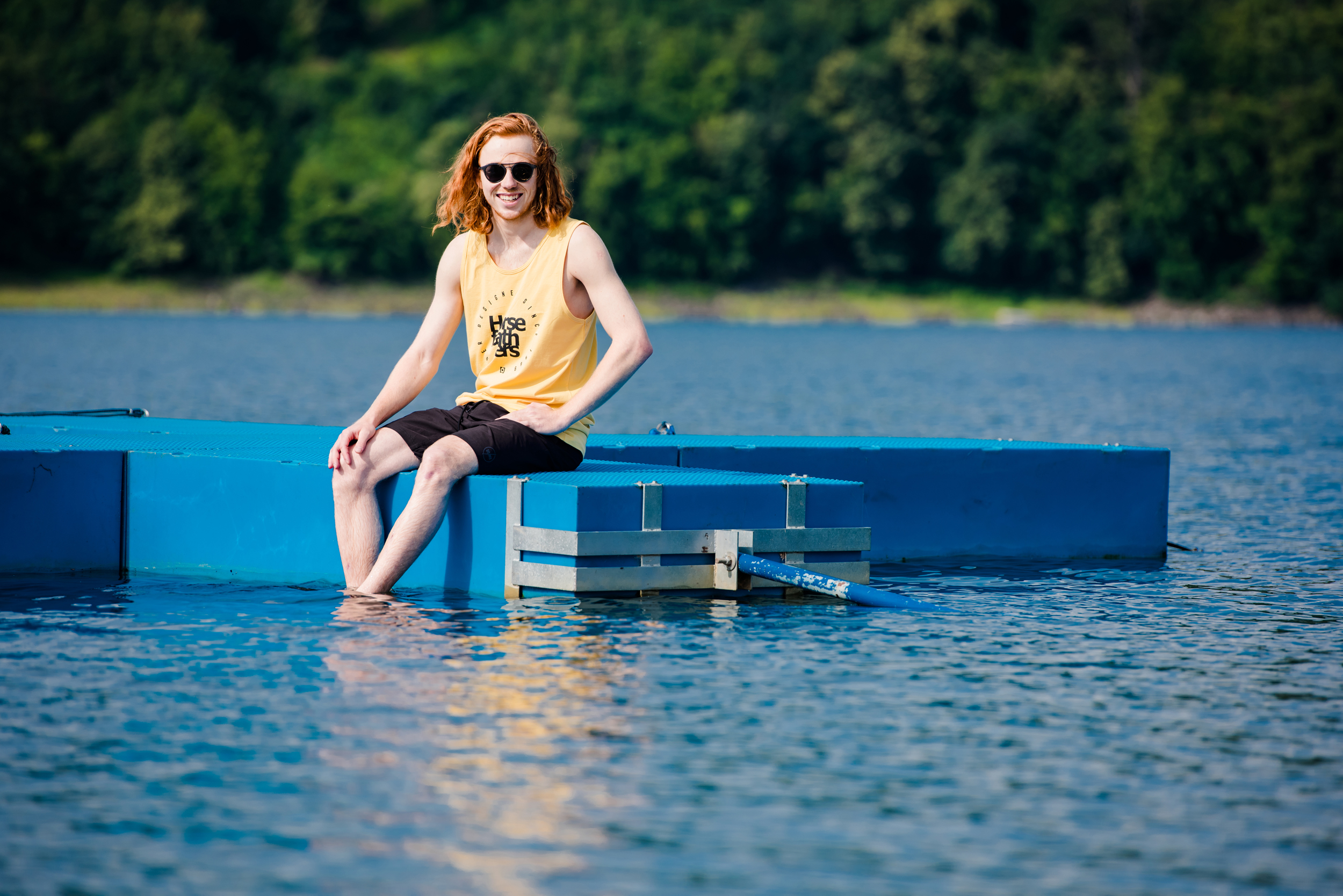 Surfers will appreciate greater length and stretch of the material
The drawstring fastening system at the front, which is applied to most boardshorts, is designed to prevent them from slipping off the body as a result of strong waves when the surfer is drawn underwater. Surfers mostly prefer a non-elasticated, rigid waistband with drawstring fastening. Fit should, however, encircle the waist, but at the same time allow unrestricted movement. Longer outseams protect the legs from unpleasant hair removal when the surfer is sitting on a waxed board. Perhaps none of us is a big fan of an unexpected epilation.
For sports such as surfing and wakeboarding, make sure your boardshorts do not hinder your movement and allow you to move as much as you need. There is nothing worse than not being able to catch a perfect wave or to nail the trick you have been training in the wakepark for hours because of the rigid material of your boardshorts. Quiksilver, O'Neill, and Volcom boardshorts use an extremely stretchy 4-way stretch fabric that allows athletes unrestricted movement and lets them show what's really in them.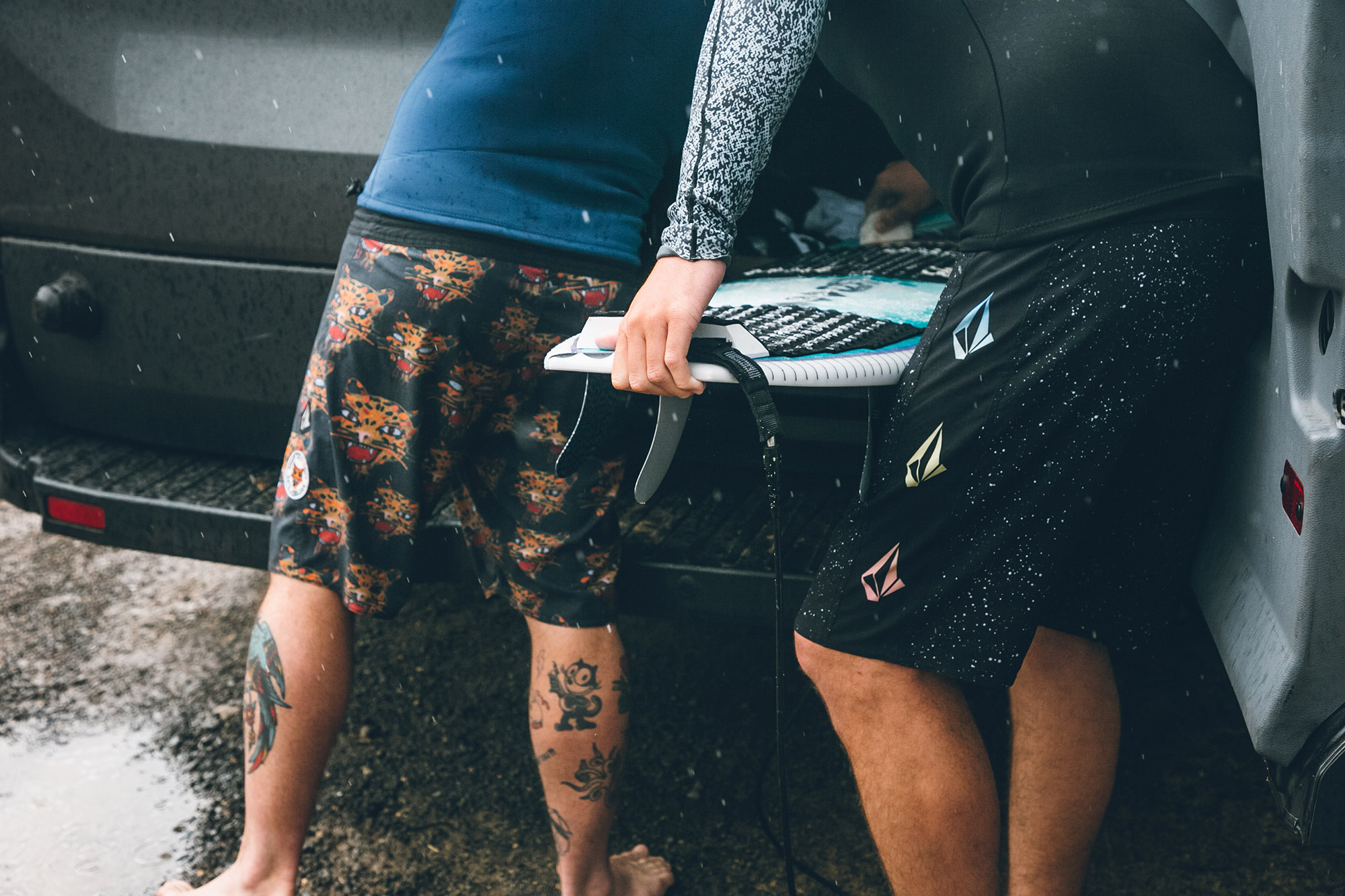 [produkty1]
Volley and lifestyle boardshorts
However, boardshorts, as we have already suggested, have become popular outside the surfing community as well. Skaters, swimmers or even casual beach boys also appreciate their great features.
Yutes Hybrid boardshorts from Volcom, which literally have a double power, say it all. They serve as classic shorts to the city or for skating, but also as boardshorts to the water. Quick-drying material, durability, water repellency, exceptional stretch and mesh pocket bags that provide quick drainage. Economy mode for every holiday for which you want to pack in your backpack. Volcom's Ozzie Stoney from hemp and with Ozzie Wright's design will also serve the same purpose. And in those, no one will miss you in the street, that's a given.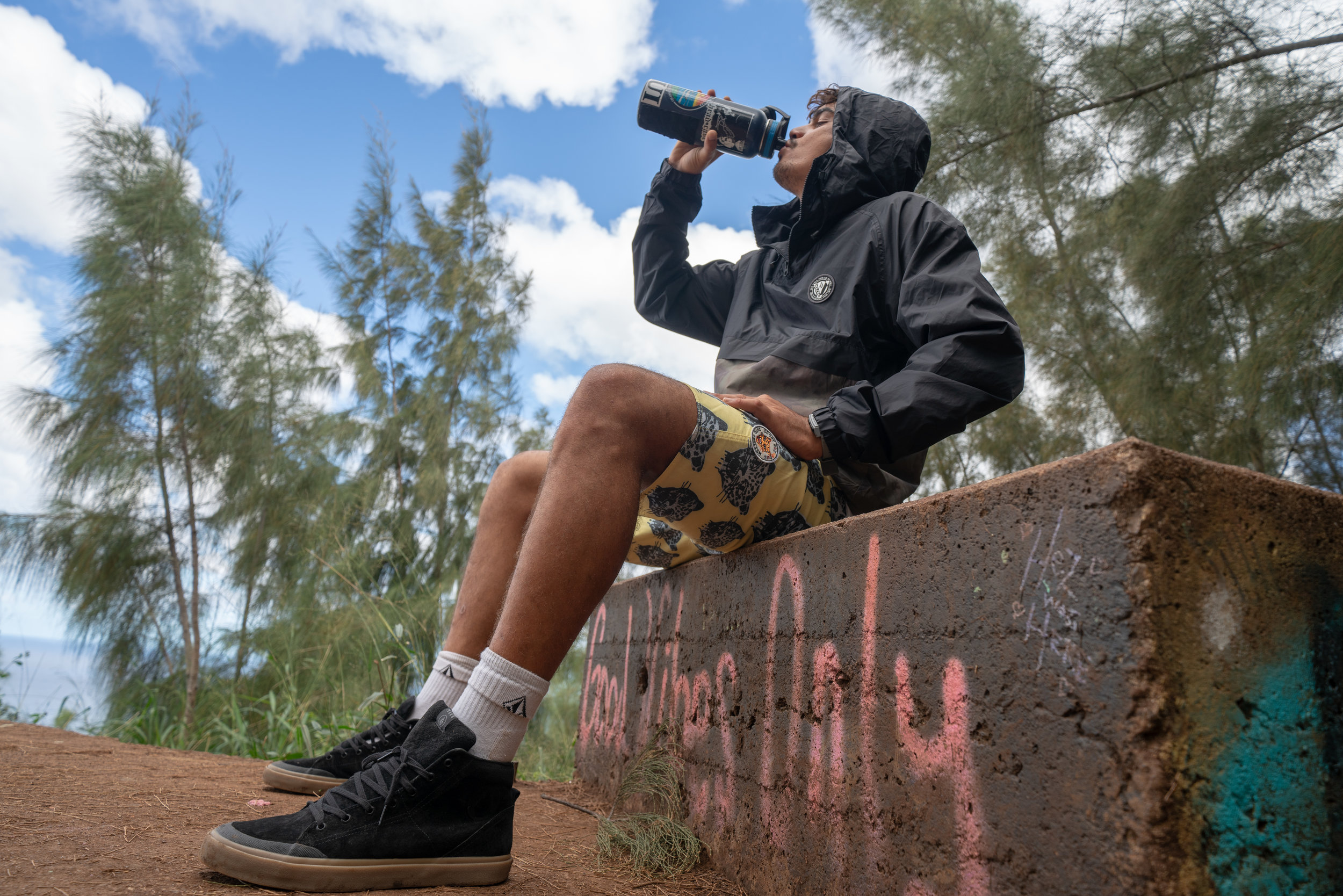 Beach types that prefer casual times at the waterside or the beach sports will appreciate shorter length of boardshorts. For these occasions exactly, Quiksilver Everyday Volley, O'Neill Vert or O'Neill Cali are ideally suited. And after the day spent at the beach you can go straight to the bar wearing the same.
[produkty2]
Repreve and the future of oceans without plastic
Perhaps you have already read about the extraordinary Quiksilver and Volcom initiatives and their collection of boardshorts made from recycled plastics on our blog. This year's Volcom and Quiksilver boardshorts collection is almost entirely made of recycled Repreve fibers. On average, five plastic bottles are recycled to produce a pair of boardshorts. Protecting the environment without which we could not enjoy sports such as surfing, wakeboarding or paddleboarding has become an important part of making products and the brands that themselves stood at the birth of these sports start to perceive it.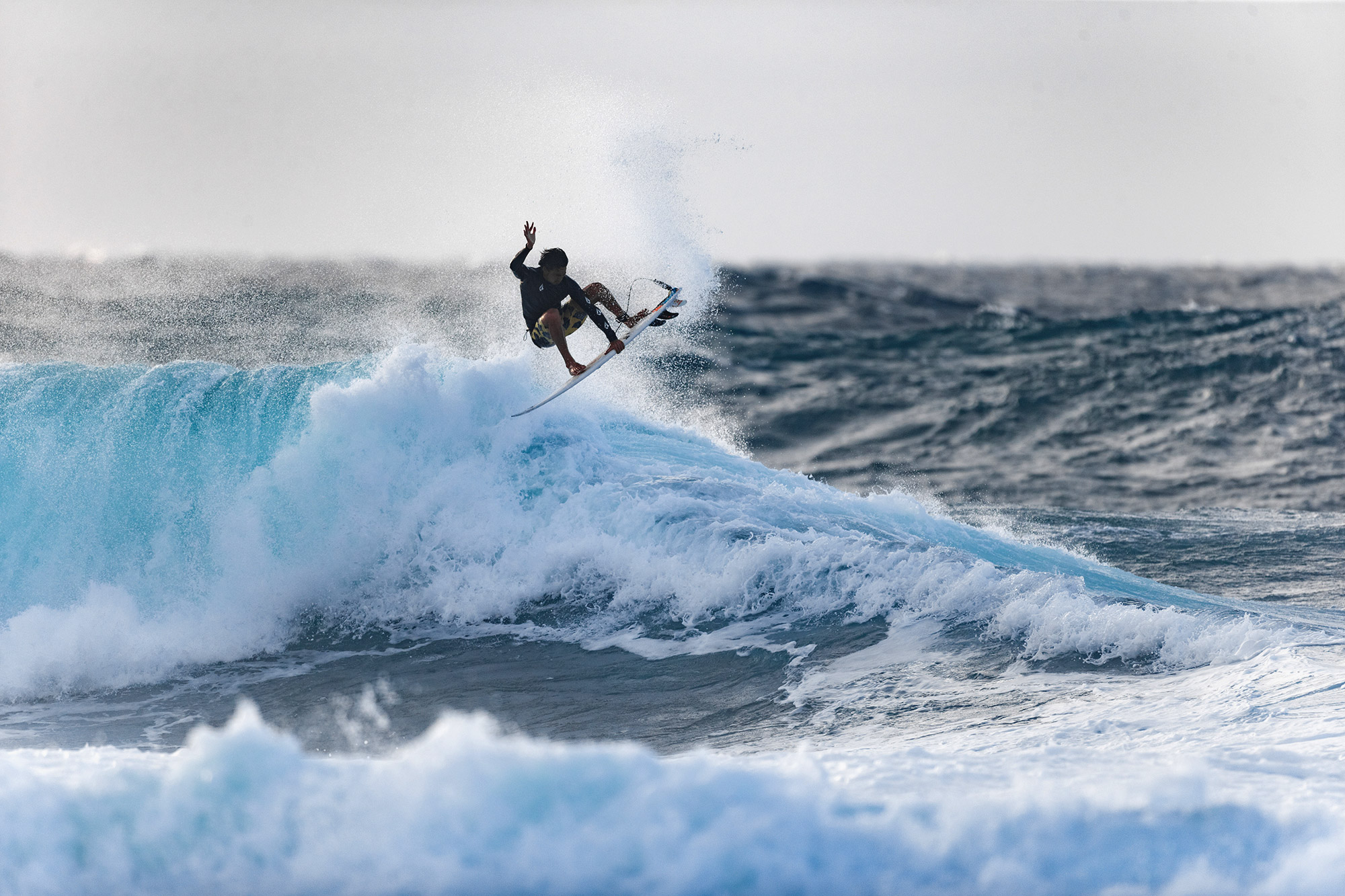 [produkty3]
Whether you wear boardshorts because of their great features to the water or just as a fashion trend, it is important that thanks to them you can enjoy the summer to the fullest!