Loyalty Program ZEZULA Club
Do you shop with us regularly? We will reward you for your loyalty! Collect points for your purchases and get up to 20% off merchandise, cheaper shipping and other benefits!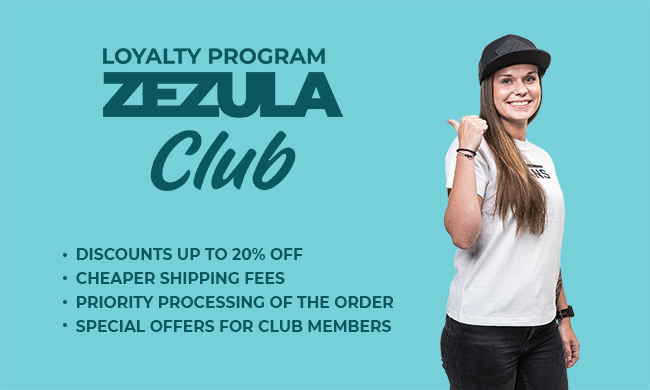 ZEZULA Club is a new loyalty program for customers of the SNOWBOARD ZEZULA store. Each registered customer automatically becomes a member of ZEZULA Club and can buy goods cheaper as well as enjoy exclusive club benefits:
discounts up to 20% off on non-discounted goods at the online store and at the stone shop
cheaper shipping fees
lower limits on free shipping
priority processing of the order
special discounts on already discounted goods
In addition to the club benefits that you can use on purchases in our online store as well as store in Brno, you can also take advantage of other bonuses and discounts at our partners. Take a look at the overview of the ZEZULA Club partners.
How to Transfer Points from the Loyalty Card to Your ZEZULA Club Account?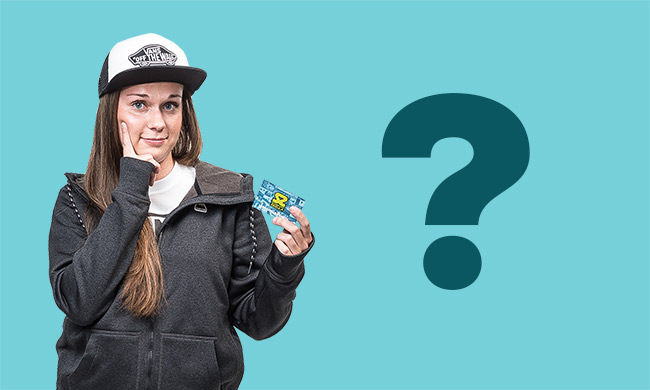 If you have our loyalty card from the previous period and do not want to lose your points, you do not have to worry. We have already automatically transferred points of the registered customers who had their loyalty cards associated with their customer accounts.
Check Your ZEZULA Club account.
Customers who have received a loyalty card at the store and have no account associated with it must sign up by 31 December 2020 at the latest. The registration form also includes a field for entering the card number and the barcode. The loyalty card points will then be transferred to the newly created account within 24 hours. Moreover, you will no longer present yourself with your loyalty card at the store, you will only report your email.
How to Become a Member of the ZEZULA Club?
You automatically qualify for ZEZULA lub membership by registering during your purchase. Registration is not conditional to purchase only, you can also register here. We will create an account in which you will see an overview of your orders, points earned for purchases and the corresponding discount on goods.
Membership in the club is voluntary, is not binding to anything, and you can withdraw from it at any time (in My Account > ZEZULA Club).
Registration at the Brno Store
You can also register in our SNOWBOARD ZEZULA shop in Brno. Just tell the sales staff your e-mail. You will receive a confirmation e-mail to your e-mail address, which you need to click through, choose a password to log in to your online account and you are good to go!
Adding Points
For each purchase, we will add to your account the number of points parallel to the amount of money spent (1 Kč = 1 point --> 1 € is about 25 points). The more points you earn, the bigger the discount on your purchases with us. You can thus get up to 20% off!
| The amount of points on your account | Discount |
| --- | --- |
| 1 - 5 000 points | 8% off |
| 5 001 - 10 000 points | 10% off |
| 10 001 - 15 000 points | 12% off |
| 15 001 - 20 000 points | 14% off |
| 20 001 - 25 000 points | 16% off |
| 25 001 - 30 000 points | 18% off |
| 30 001 and more | 20% off |
The amount of points we add to your account is equal to the price of the goods and services you actually pay, i.e. the price after all the discounts have been included. You will get points to your account on your first purchase already. Your point account will be updated within 24 hours of your last purchase.
On your purchase, you will get a discount that corresponds to overal amount of points earned over the past three years (1 095 calendar days). Points earned more than three years ago are automatically deleted.
You will receive no points on your customer account for purchases of goods returned within 14 days.
You must log in to access your customer account.
Detailed terms and conditions of the ZEZULA Club loyalty program
Discounts for ISIC card holders and other card holders
For ISIC, ITIC, Alive (IYTC) card holders we provide discounts on goods when buying in the e-shop and in the shop in Brno. When purchasing in the e-shop, you will be asked to enter your ISIC card number during the order process. The discount with these cards can only be used on non-discounted goods. The discount is not combined with other discounts.
ISIC, Alpenverein card and loyalty program?
You can use the ISIC or Alpenverein card discount until the number of points you have accumulated in your ZEZULA Club account entitles you to a higher discount!
Goods Discounts Policy
discounts can only be applied to non discounted goods, rental, and services
discounts don't refer to snowboard sets, goods on sale and vouchers
discounts don't sum up and can not be applied retroactively
discounts can not be applied to Ortovox Ava Bags and Avalanche sets
changes in the discount system reserved
How to Apply a Discount Code?
If you received our discount code, you will apply it in the first step of your order. Under the list of goods in the cart click on the link "Redeem the discount code or gift voucher" and enter the discount code in the appropriate field and click the "Apply" button.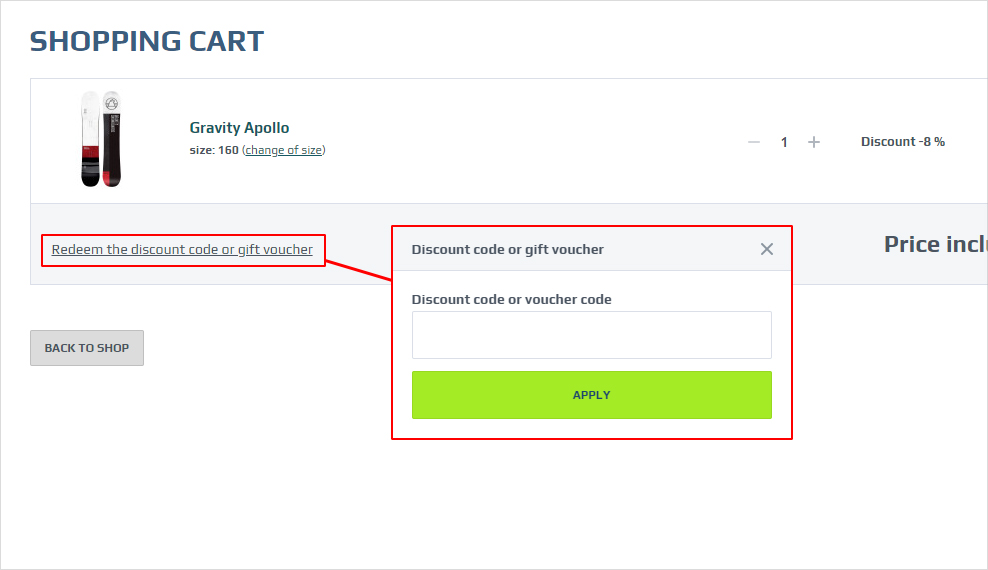 To redeem the discount code, you must reach a purchase price of at least 80 € (for 8 € voucher) or 200 € (for 20 € voucher), including all the discounts.
Example:
you add a 226 € snowboard into your cart
you have a 13% discount in your ZEZULA Clubu account
after logging into your customer account the price of goods will be recalculated according to your discount on your ZEZULA Club account
the resulting snowboard price is then 196.62 €, therefore you cannot redeem a discount voucher applicable over 200 € (you need to add goods costing at least 3.38 € to your shopping cart to reach 200 €)
We recommend that you log in before proceeding with the shopping. Thus you will see the products with the price including your discount in your ZEZULA Club account!
Policy for Redeeming the Discount Code
discount code vouchers can only be used at the online stores www.snowboard-zezula.cz, www.snowboard-zezula.sk, www.snowboard-zezula.com, www.snowboard-zezula.pl
they are not applicable to goods labeled as Special offer, Discount, Sale, or to snowboard sets and gift vocuhers
only one discount code per purchase is allowed
Online Gift Voucher
The codes on the online gift vouchers are unique and one-use only, one coupon cannot be used for multiple purchases. The coupon can be redeemed at both the online store and the shop. If the purchase amount is less than the coupon value, the coupon cannot be redeemed. The coupon cannot be exchanged for cash.
How to Apply an Online Gift Voucher at the Online Store?
put all the goods in the cart, under the list of goods, click on the link "Reddem the discount code or gift voucher" and enter the coupon code in the appropriate field and click on the "Apply" button.
after entering the code, the value of the online gift voucher will be deducted immediately from the total amount of your order; you will immediately see how much is left to pay
then you complete the order in the usual way