Element Gear Pro 5L
Goods is on stock
Free delivery from over 100.00 € order value
2836 places for Personal Pickup in the Czech Republic and Slovakia
We deliver probably on Friday 14. 8.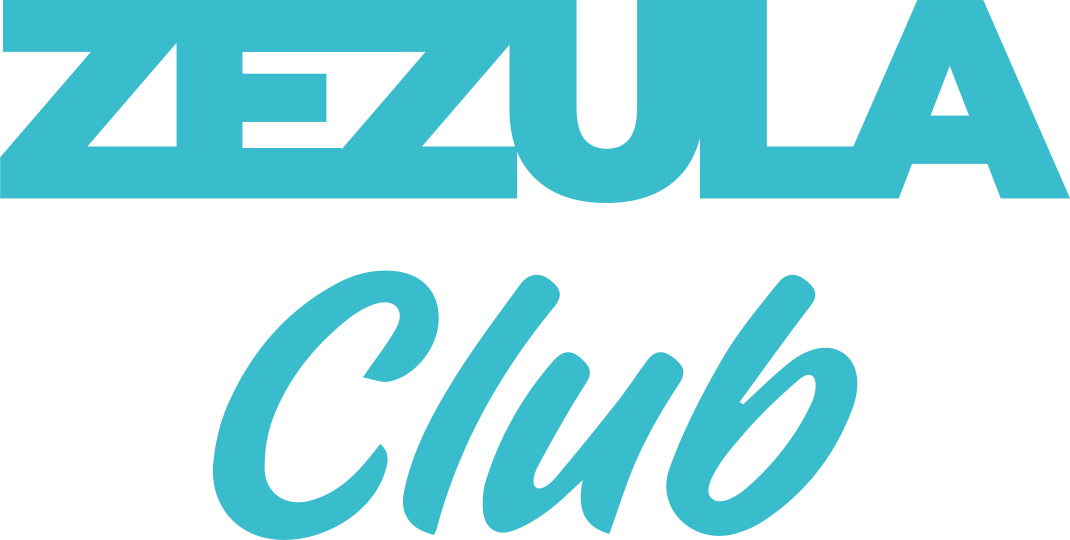 ZEZULA Club is a loyalty program for customers of SNOWBOARD ZEZULA. Members can buy cheaper and enjoy exclusive club benefits.
Become a member of ZEZULA Club and get many benefits!
ZEZULA Club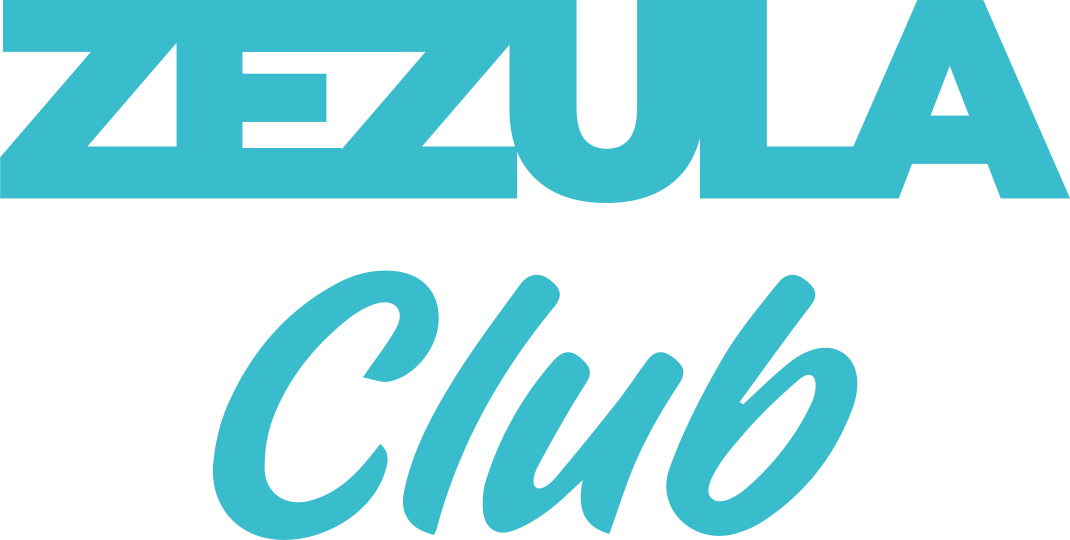 ZEZULA Club is a loyalty program for customers of SNOWBOARD ZEZULA. Every customer who signs up automatically becomes a member of ZEZULA Club and can buy cheaper and enjoy exclusive club benefits:
up to 20% off non-discount items at eshop and store
cheaper shipping
lower free shipping limits
Order priority
special discounts on already discounted items
discount on rental and service at SNOWBOARD ZEZULA
Description
Elements Gear Pro
Waterproof bags are used to protect and store valuables or clothing before water, dirt or sand
Welded seams, rolling cuff
Durable material, wide range of colors
Adjustable and removable strap allows you to carry your bag over your shoulder
Manufactured in three variants according to the type of material used Expedition (very durable), Light (lightweight), PRO (standard PVC)
How to choose your equipment?
The phenomenon named paddleboard
Paddleboarding is really a sport for all: for both the young and the whole family; it is a great complementary activity for athletes and can be ridden on a pond, lake, sea and river. In recent years, paddleboarding has been enjoying great popularity across all generations, and we'll tell you why!
Paddle is great for sporting and relaxation
Paddleboarding or SUP (Stand Up Paddle) originated in Hawaii as an auxiliary sport for surfing training. Currently, it is the fastest growing board sport thanks to several factors.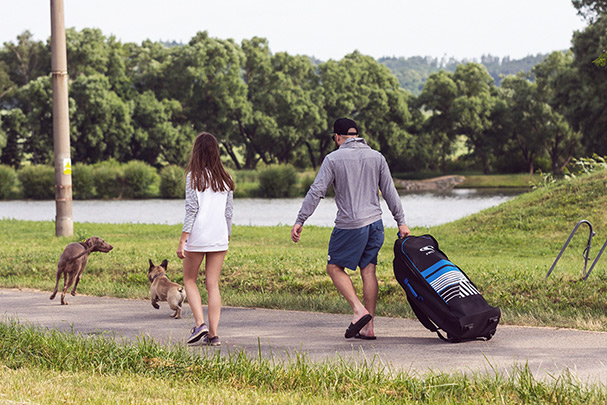 The biggest advantage lies in the possibilities offered by paddleboarding. You don't need the sea, the wind, or any other conditions uncommon in our geographic location, but a mere pond or river is enough, and the perfect fun can begin!
Pack the inflatable board on your back
A big advantage of paddleboarding is the fact that it is a safe sport. No serious injuries happen during practising it, but a life jacket is a matter of course for children. The attractiveness of this sport also undoubtedly lies in the fact that a child and an elderly person can handle it, too. So the whole family will perfectly enjoy it together. In addition to that, paddleboarding isn't so expensive, so you don't have to dig deep into your pocket for a Sunday family trip. And it is not even necessary to buy the equipment, paddleboards can be rented in most water sports recreational spots.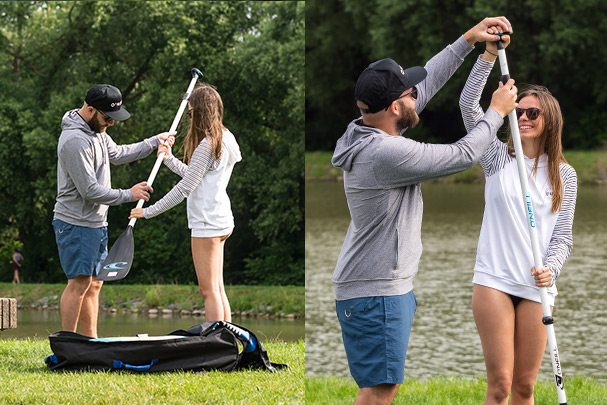 A complete packed set weighs about 15 kg, so it is possible to carry it on your back!
Modern manufacturing processes and inflatable technologies allow you to pack up over three-meter-long board, a telescopic paddle and a pump into a backpack so you can carry the complete equipment literally on your back.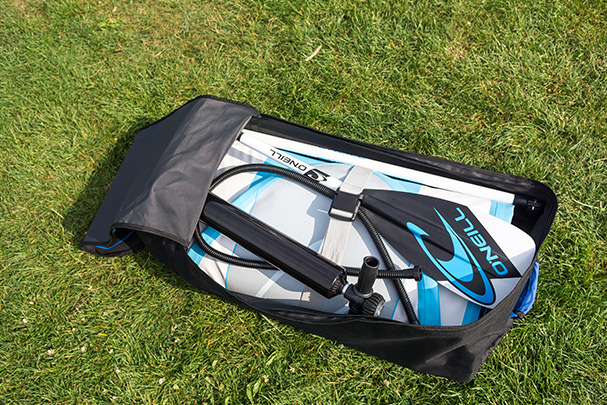 What shape should you choose?
Paddleboarding offers a wide range of disciplines: ranging from recreational rides on flat waters to longer tours, speed races, to ocean waves. Of course, the shapes and sizes of the boards vary according to the discipline, as is the case with snowboarding, skateboarding or surfing.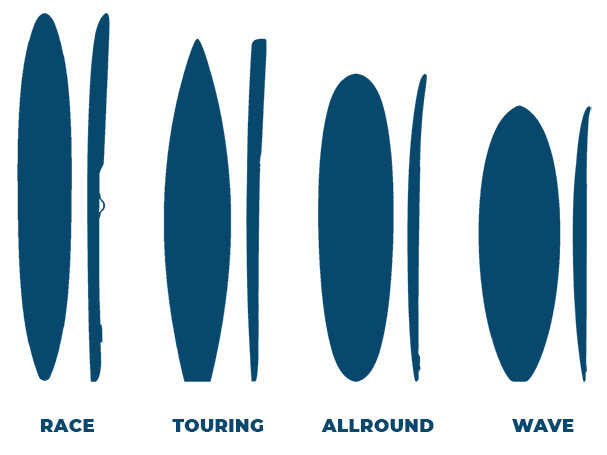 The most common shape of paddleboards is allround. These are the boards designed for recreational riding. They are sufficiently stable and their length is chosen according to the rider's weight. Dimensions are typically between 300 and 330 cm in length, and 75 to 85 cm in width.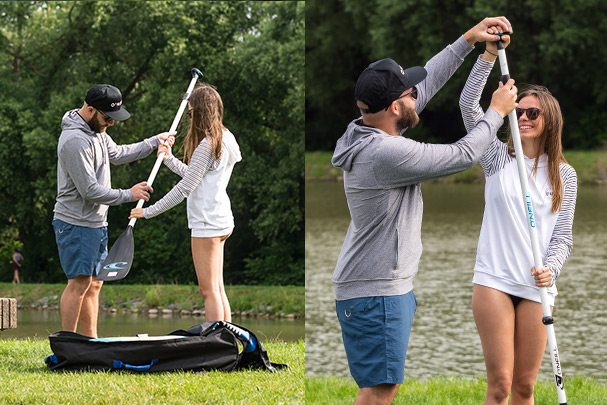 The most universal shape of paddleboards is the so-called "allround".
Paddleboards suitable for longer rides in flat water belong to the touring category. These boards are long and have a narrower tip, making them more directional and faster.
If you would like to try a paddleboard on the waves in the sea, choose the wave shape. Thanks to the greater bend of these boards, you will be more agile when riding. Wave paddleboards can be used in Czech conditions for lighter riders, women or children.
Yet a marginal discipline, which is, however, gaining more and more fans, is race paddleboarding. These boards are used by performance athletes, they are also suitable for fitness riding.
Paddle selection
With telescopic paddles consisting of either two or three parts, the length can be adjusted so that one paddle is enough for the whole family or group. The paddle length should be about 10 to 20 cm longer than is the height of your body. The length of paddles ranges from 170 to 220 cm. The paddles are made of the lightest and most durable materials: aluminum, plastic, fiberglass, and the best are the carbon paddles. The paddle is not completely straight, the paddle blade forms a blunt angle with the handle.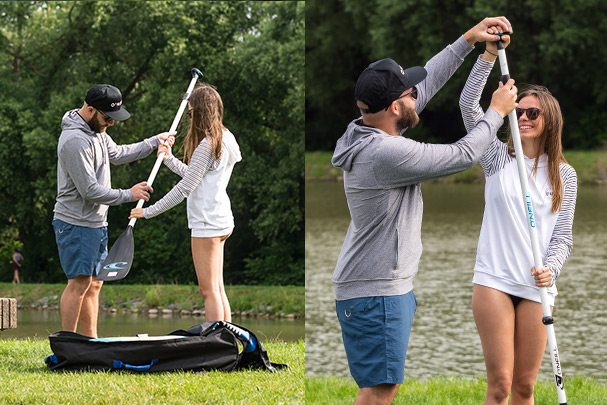 The paddle should be approximately 20 cm longer than is the body height.
Inflating the paddleboard
To inflate the paddleboard, you need a pump that is either part of the set "board + paddle + pump", or it needs to be purchased separately. Anyway, this whole set fits into a simple backpack, usually delivered with a board.
After unpacking the board, put the pump hose to the board's vent. The vent has a fuse, so the air from the board does not leak after removing the hose.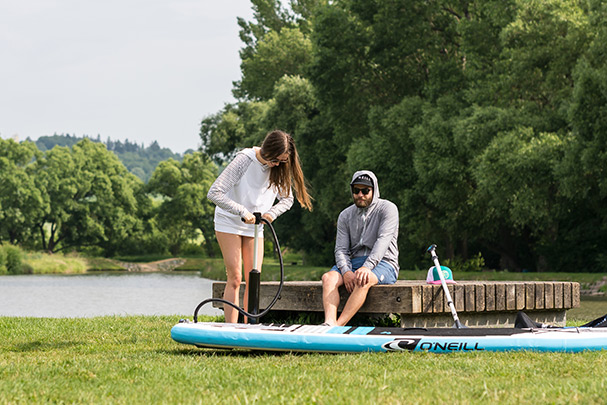 After about three to five minutes, everything is ready; inflation does not really take much time and has nothing to do with lengthy inflating of water loungers - as some of us are familiar with from vacations.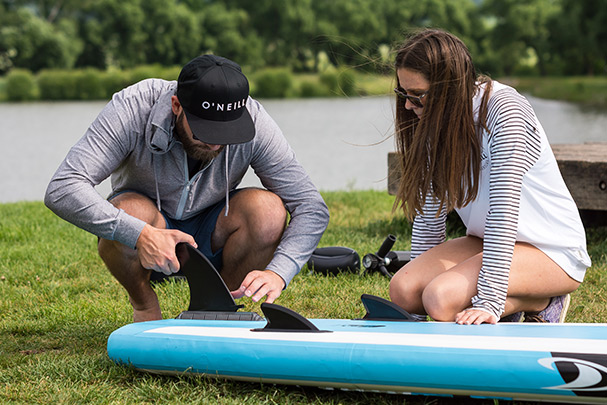 It is still necessary to attach the center fin to the bottom with a screw; without it, the board would not keep its direction.
It is recommended to keep your valuables such as phone, documents or camera in a waterproof bag. These are now offered in different volumes, from small five-liter to six-liter model. The biggest ones are designed for long hikes and all camping equipment can fit into them.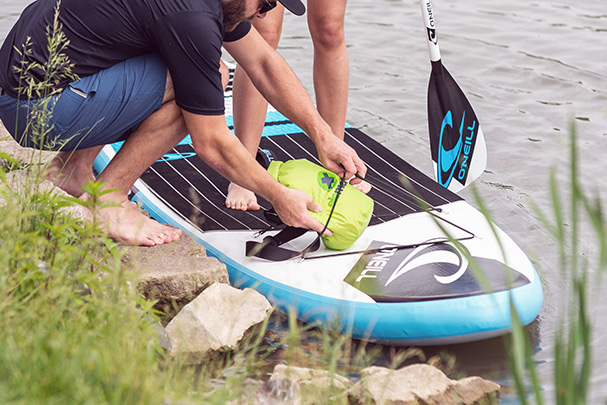 What to wear?
Hooray, let's hit the water! Usually, the paddleboarding is done barefoot or in neoprene boots that can warm up your feet. Sunglasses will certainly come handy, too. The best are the ones equipped with polarized lenses. These models will best handle sharp reflections on the surface. As the upper body layer, it is best to choose fast-drying lycra T-shirts with a UV filter.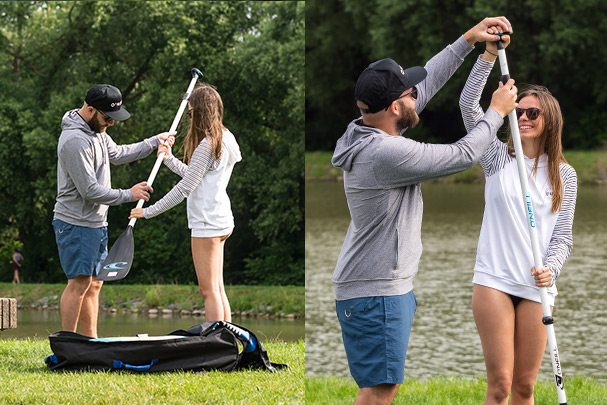 Lycra T-shirt, baseball cap, sunglasses - essential accessories for paddleboarding.
You will feel most comfortable in a swimwear or in boardshorts. These should be as flexible as possible. Perhaps you will feel uncertain about paddleboarding initially, but really, after a few minutes you will enjoy the sport to the fullest. Try it, it's SUPer!
Safety and equipment
You should not forget about the helmet and the vest when riding down the rivers and wild waters. For children and weaker swimmers, the vest should be a matter of course on any water surface. You can use a special SUP leash to keep your paddleboard from sailing away in a strong current.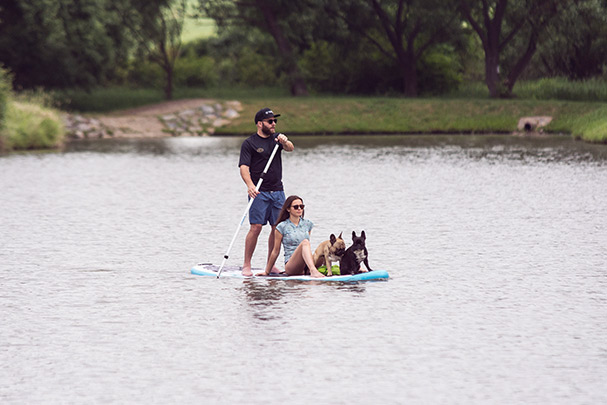 For the first time, it is better to try the stability on the board while kneeling. Board from shallow water or the pier and at the beginning, try paddling with your hands, then try the paddle and then just stand up and fall in love with the paddleboarding.
Deflating and packing the paddleboard
Pull the paddleboard out of the water, put it upside down so that the board does not lie on the fin - it could deform itself. Let the board dry and in the meantime, you can change into a dry outfit. Terry ponchos are just perfect for this - you do not need a changing room or a third hand to hold the towel around your waist!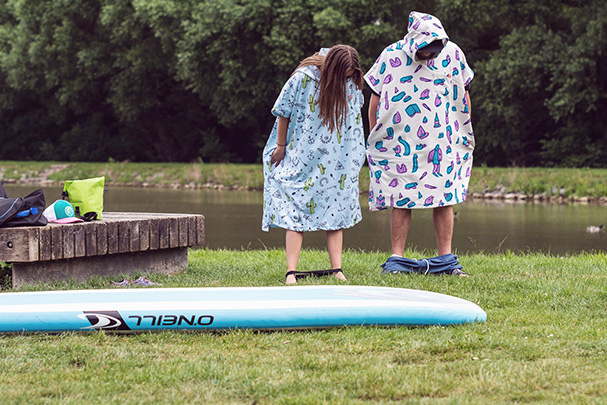 First, unscrew the center fin from the paddleboard.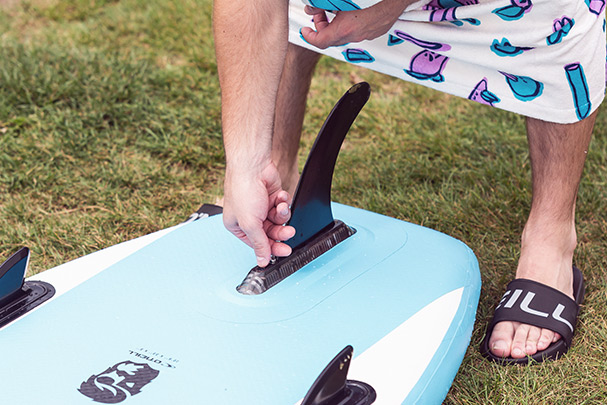 We put inflatable "sleeves" on the side fins (they are not classic children's inflatable sleeves, but they look very similar). These are used to prevent plastic fins from being damaged by weight and heat when packed.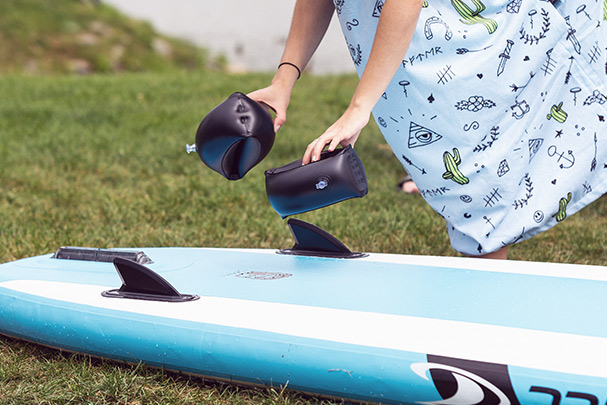 Use the same vent to deflate the paddleboard as well.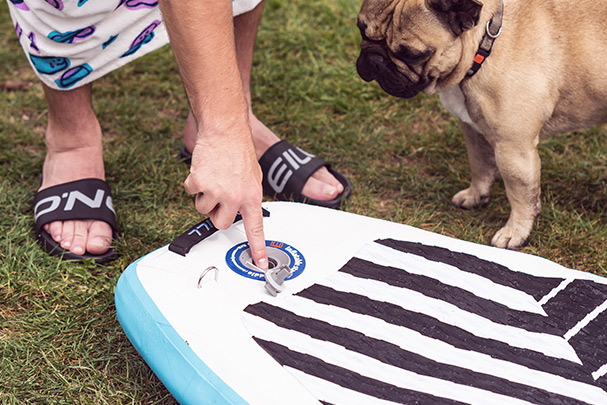 Pack the deflated paddleboard from tail to nose.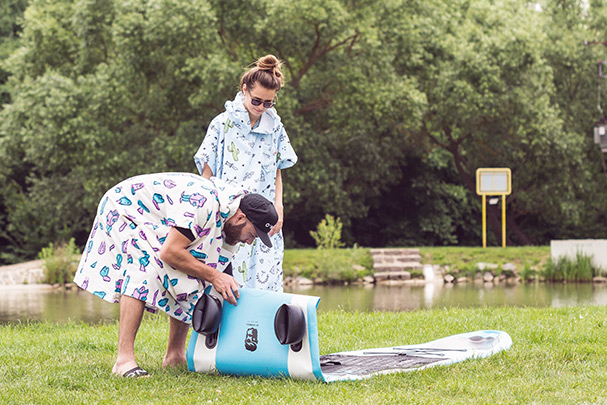 Pack the board, the paddle and the pump in the package/backpack, which is usually part of the kit!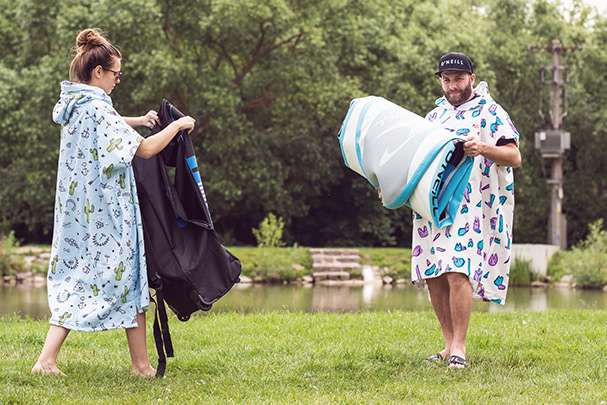 You can find paddleboards from O'Neill, Kin and Viamare in our e-shop offer. Or just stop by in the store in Brno, we will be happy to help you choose!
[galerie]