Wetsuit O'Neill O'riginal 3/2 Cz Full
Goods is on stock
Free delivery from over 200.00 € order value
2100 places for Personal Pickup in the Czech Republic and Slovakia
We deliver probably on Thursday 27. 6.
With this purchase you get
Loyalty Card
with many advantages!
Description
O'Neill O'riginal F.U.Z.E. 3/2 Full Men's Wetsuit
A proven original that goes with the times and got all the right tweaks from O'Neill. Neoprene 3/2 thickness is ideal for temperatures of 12 ° -17° C.
Specifications
TechnoButter 3 - Premium TechnoButter Neoprene is really flexible. Technical fibers and a revolutionary foam core made of this material create lightness and durability with fast drying properties.
70 % TB3 / 30 % TB3X
Outer layer - To create the most flexible, durable, soft and hydrophobic material, the highest quality water-resistant yarns were chosen. Strong to withstand stringent testing standards.
Foam Rubber Core - a special material formula with microscopic air cells is injected into the rubber core. These air cells are heated to increase insulation. The foam retains its structure even after repeated bumps and deformations.
Inner layer - X-factor creates the lightest and most flexible neoprene. The exclusive TB3 form is pre-stretched but still retains its structure for maximum efficiency. TB3X also increases heat due to its lower profile. In addition, it sucks less water, dries faster. The material is so comfortable for your skin that you feel as if you had no wetsuit on at all.
F.U.Z.E. Chest Entry - an exclusive Front Upper Zip Entry system that keeps you dry and allows unlimited flexibility
Minimal Seam Design
Glued and Blindsticted Seam - Waterproof seams that are double stitched and glued. Flexloc stitch is stronger and more flexible and eliminates ripping
360 ° Barrier with Drain Holes
Single Seal Collar
Krypto Knee Padz - Abrasion-resistant knee pad with ergonomic design, made of highly elastic neoprene. It extends the life of the wetsuit and above all, protects the knees
External Key Pocket with Loop - Located along the lower leg, the key pocket is easy to access and secure
Thickness 3/2 - Thickness 3 mm on the body and at critical points such as shoulders and kidneys, 2 mm on the limbs
How to choose
How to choose a wetsuit?
Do you need help with choosing your wetsuit? We could try to answer your questions in this article! Read carefully!
A wetsuit's function is to keep you warm in the water
A wetsuit keeps you warm by trapping a thin layer of water between your skin and the neoprene. This thin layer of water is heated up by your body and therefore keeps you warm. It's important to get a wetsuit that has a close and comfortable fit, otherwise cold water will constantly flush the warm water out. Wetsuits are made out of a synthetic rubber called neoprene. When the sun is shining you can use the lycra! It works good like sun protections as well.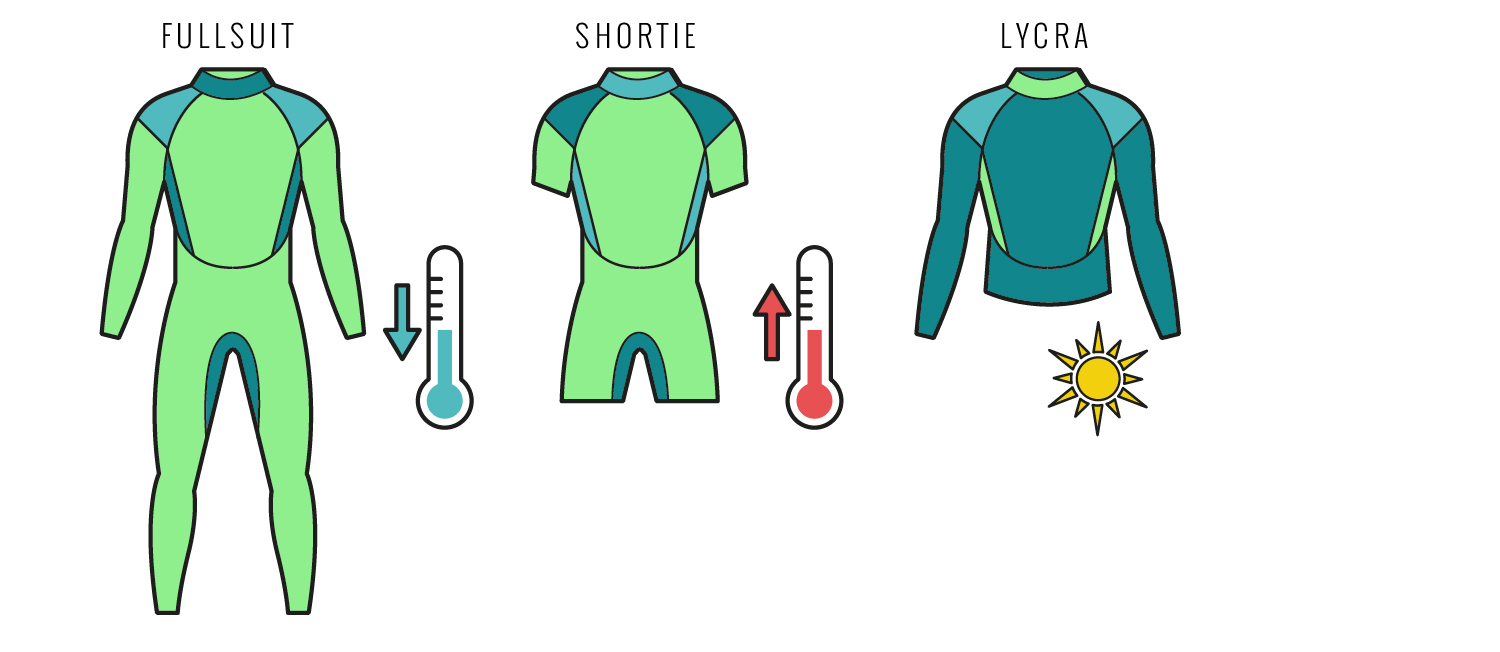 Thickness wetsuit
Generally fullsuits have a thickness of 3/2 mm, 4/3 mm, or 5/4 mm, & 6/5 mm. The higher number refers to the thickness of the neoprene around the torso. The lower number refers to the thickness in the legs and arms. For example, a 3/2mm full length wetsuit has a 3 mm neoprene thickness around the torso and the 2 mm thickness on the arms and legs is for flexibility.